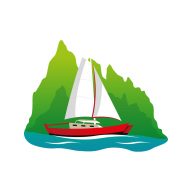 Voila Moorea
Hilton Moorea Lagoon Resort & Spa Position: -17.485585, -149.844320
Payment methods: Only cash payments accepted. Pick-up: Yes
Ia ora na e Maeva!
Welcome to Moorea!
Welcome aboard Taboo, a small sailing catamaran with beautiful Polynesian design. You will discover the richness of the Moorea Lagoon, and the beautiful landscapes of Tahiti, its sister island!
With a maximum of eight passengers, live an exceptional adventure in an intimate setting. We will provide you with a unique, and original experience, a timeless moment.
Would you better like a snorkeling adventure with rays and sharks? A romantic and relaxing cruise at sunset? Maybe both?
Find our multiple shared and private excursions to be enjoyed with your family, friends, or as a couple during your honeymoon or anniversary!
Taboo & You
Intimate and cozy with only eight passengers on board, Taboo is a sailing catamaran setup with your comfort in mind. Throughout our trip, discover the different spaces provided to you:
Trampoline (net) on the bow to be as close as possible from the action (1) Cushions and Pillows on the front deck so you can lay down and enjoy the sun (2) Benches under the bimini (roof) to enjoy time in a shaded and protected area. (3) Stern ladder to easily get back up after swimming (4) Move around without effort (railings to hang on to) on port and starboard hulls, and access those different zones at your own will.
Sitting, Standing Up or Laying Down… Explore Moorea in the most comfortable way possible!
SNORKELING TOURS
Discover the Lagoon Ecosystem
Dive into the crystal waters and the coral gardens in the middle of the Moorea lagoon, to swim with rays, sharks, tropical fishes and tikis…
Duration from 3 to 6 hours
Starting at 8500 xpf per person
Private starting at 50000 xpf
SUNSET CRUISES
The Romantic Cruise
Sail in the beautiful Cook and Opunohu bays and discover Moorea from the ocean at the soft rhythm of the water caressing the hulls in the sunset…
Duration of 2 hours
Starting at 6500 xpf per person
Private starting at 43000 xpf
LAYOVERS
All of Moorea in One Day
Discover all the essential spots in Moorea from the mountain to the lagoon with our excursions tailored for cruise ship passengers on lay overs.
Duration from 3 hours
Starting at 8500 xpf per person
Private starting at 50000 xpf
A LA CARTE
A la carte following your wishes
Snorkeling at sunset, marriage proposals, groups from 9 to 13 people, cocktails… let's make your dreams come true!
Duration from 2 hours
Starting at 43000 xpf
Pricelist

Snorkeling Tours

Discover the Lagoon Ecosystem. Price per person.

8500 XPF

71.23€

$85.00

Snorkeling Tours (Private)

Discover the Lagoon Ecosystem.

50000 XPF

419.00€

$500.00

Sunset Cruises

The Romantic Cruise. Price per person.

6500 XPF

54.47€

$65.00

Sunset Cruises (Private)

The Romantic Cruise.

43000 XPF

360.34€

$430.00

Layovers

All of Moorea in One Day. Price per person.

8500 XPF

71.23€

$85.00

Layovers (Private)

All of Moorea in One Day.

50000 XPF

419.00€

$500.00

A La Carte (Private)

A la carte following your wishes.

43000 XPF

360.34€

$430.00